STOCK RESISTANT FLEXIBLE FLOAT ARM IS THE ANSWER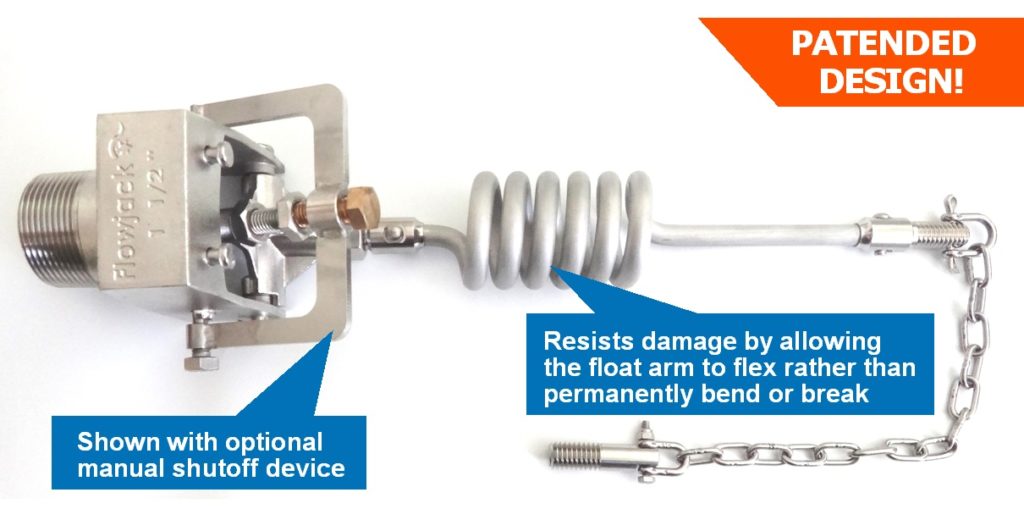 Our products: We offer innovative and reliable livestock watering equipment, such as: stock resistant stainless steel float valves with flexible or rigid float arms, float chain kits, floats, float valve seals, float valve pins, stand pipes / risers, trough bung assemblies, trough patches, trough ends, stainless steel ball valves, spare parts and more.
Durability: If you don't have a good cover on your float valve the foat arm is the weak link that is likely to be damaged by livestock. The Flowjack flexible float arm resists damage by allowing the float arm to flex rather than permanently bend or break if it is knocked by livestock. All castings are 316 marine grade stainless steel including the valve seat, ensuring your valve will last a long time.
Ease of maintenance: A removable float arm pivot pin instead of press fit makes maintenance easy.
High pressure: Our 2 inch high pressure valve is rated to 133 psi and 1 inch valve is rated to 260 psi.
Manual shutoff device: This device is an optional extra that allows the user to override the float valve.
Testimonials
"Flowjack is a very good product and we endorse it!"



Anna & Stewart Weir – Sandover Pastoral Company
"The spring in the float arm eliminates the damage done when stock have access to it, great improvement!"



Cameron Hicks, Keilambete, Ruby vale QLD
"We have received wonderful feedback about Flowjack products from our clients. They think your float valves are 'The Bee's Knees!' "



Cailey Joy – Elders Derby WA – Farm Supplies Sales Representative
"Our bore water is very corrosive and slithers of shale are always allowing the valve to leak but since using the Flowjack spring arm, this has stopped."



Cameron Hicks, Keilambete, Ruby vale QLD
"I must say it is fabulous high quality work!"



Rural Services Supplier NSW
News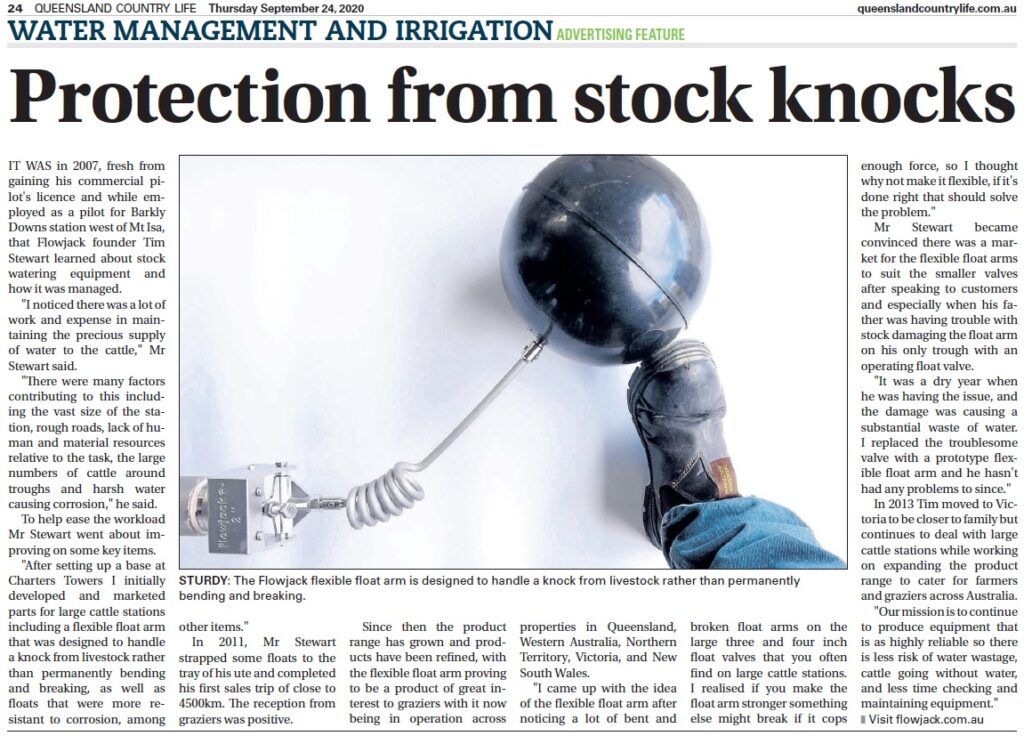 Our Flyers