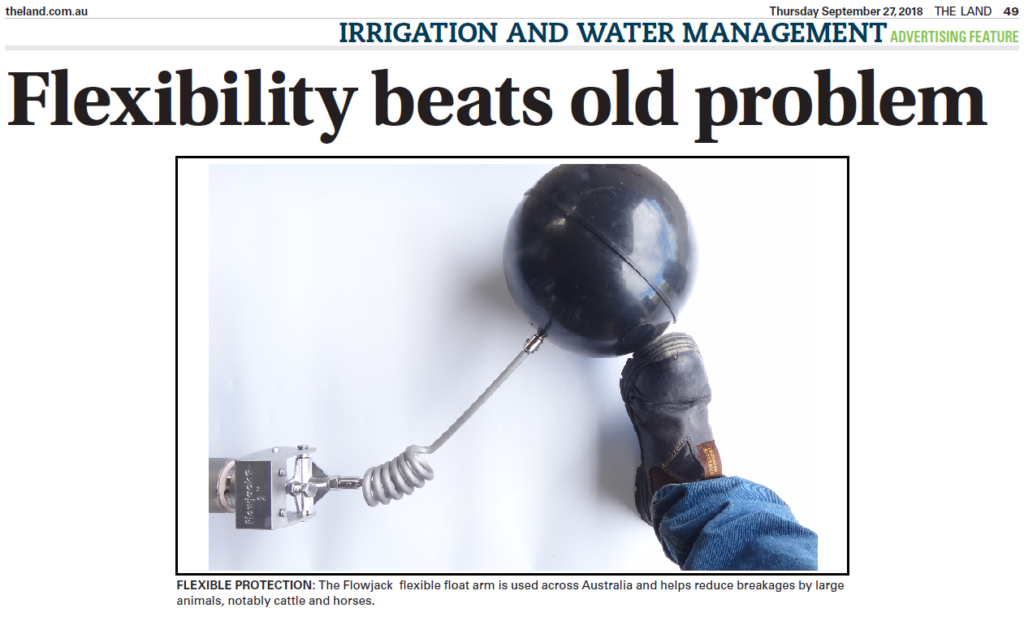 DESIGNING A BETTER THROUGH FLOAT ARM
FLOWJACK was founded In 2008 after the founder, Timothy Stewart, spent time working as a pilot on Barkly Downs Station near Mt Isa.
During his work and visits to other cattle stations he noticed some of the stock watering equipment was poorly designed.
He grew up helping out on his father's cattle farm near the Grampians in Victoria where he developed a keen interest in machinery.
Another of his interest was aviation which led him to get his commercial pilot's licence.
Those two interests combined to trigger his decision to start a business in a shed at Charters Towers in north Queensland building stock watering equipment.
He did his first sales trip of about 4500 km with a bunch of stainless steel floats in the back of a ute.
After each sales trip the product range slowly grew as Mr Stewart received advice and feedback from customers and potential customers.
He came up with the idea of the flexible float arm after noticing a lot of bent and broken float arms on the large 7.62cm (3 inch) and 10.16cm (4 in) float valves often found on large cattle stations.
Realising that trying to make the rigid float arm stronger was not necessarily the best solution, he decided to design a flexible one.
He also became convinced there was also a market for the flexible float arms to suit the smaller valves after speaking to customers and especially when his father was having trouble with stock damaging the float arm on his only trough with an operating float valve.
The float arm is the important but vulnerable part that connects the float to the valve head and transfers the force as the float rises and falls to the mechanism in the valve head.
The flexible float arm has been refined and is in now used in many parts of the country including Queensland, West Australia and the Northern Territory.
While most customers use the flexible float arm to guard against damage from cattle, one customer is using it to guard against damage from wild pigs and another from his horses.
The flexible float arm fits Flowjack valve heads which are designed to be simple strong, easy to maintain or replace parts if needed and as reliable as possible.
They are cast or fabricated from 316 stainless steel.
All valves are also available with standard rigid float arms which work well if float arms and floats are well protected.
Flowjack also produces a range of other products including float valve seals, float valve pins, stand pipes, trough bung assemblies, trough patches to repair leaks and stainless steel trough ends for Southern Cross-type sheet troughs.
The company is now based at Bald Hills, Victoria.