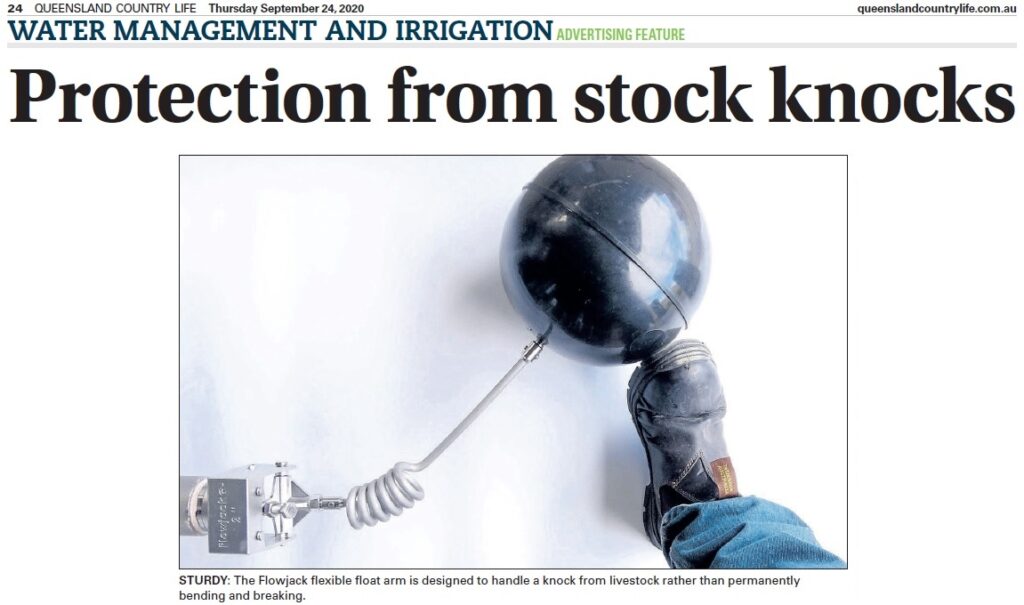 It was in 2007, fresh from gaining his commercial pilot's licence and while employed as a pilot for Barkly Downs station west of Mt Isa, that Flowjack founder Tim Stewart learned about stock watering equipment and how it was managed. "I noticed there was a lot of work and expense in maintaining the precious supply of water to the cattle," Mr Stewart said.
"There were many factors contributing to this including the vast size of the station, rough roads, lack of human and material resources relative to the task, the large numbers of cattle around troughs and harsh water causing corrosion," he said.
To help ease the workload Mr Stewart went about improving on some key items. "After setting up a base at Charters Towers I initially developed and marketed parts for large cattle stations including a flexible float arm that was designed to handle a knock from livestock rather than permanently bending and breaking, as well as floats that were more resistant to corrosion, among other items."
In 2011, Mr Stewart strapped some floats to the tray of his ute and completed his first sales trip of close to 4500km. The reception from graziers was positive. Since then the product range has grown and products have been refined, with the flexible float arm proving to be a product of great interest to graziers with it now being in operation across properties in Queensland, Western Australia, Northern Territory, Victoria, and New South Wales.
"I came up with the idea of the flexible float arm after noticing a lot of bent and broken float arms on the large three and four inch float valves that you often find on large cattle stations. I realised if you make the float arms stronger something else might break if it cops enough force, so I thought why not make it flexible, if it's done right that should solve the problem."
Mr Stewart became convinced there was a market for the flexible float arms to suit the smaller valves after speaking to customers and especially when his father was having trouble with stock damaging the float arm on his only trough with an operating float valve. "It was a dry year when he was having the issue, and the damage was causing a substantial waste of water. I replaced the troublesome valve with a prototype flexible float arm and he hasn't had any problems to since."
In 2013 Tim moved to Victoria to be closer to family but continues to deal with large cattle stations while working on expanding the product range to cater for farmers and graziers across Australia. "Our mission is to continue to produce equipment that is as highly reliable so there is less risk of water wastage, cattle going without water, and less time checking and maintaining equipment."